Products
|
YOUR REQUIREMENT IS OUR CHALLENGE
Service
|
ACHIEVING GREAT THINGS TOGETHER
New processes require ongoing review. We consider after-sales support an important part of our work in order to guarantee the ongoing improvement of your processes.
Your employees have extensive knowledge of your existing processes. We design user education and training by customer request for specific, defined technical topics. The objective is to teach your employees about grinding-related topics and therefore enhance their knowledge.
Trouble-free production without unoccupied time is the main goal of any production manager. We are happy to help you reach this goal with our competent repair service.
In order to put your new grinding wheel from Dr. Müller Diamantmetall to use as quickly and easily as possible, one of our experienced application technicians will be happy to assist you in the implementation and start-up phase by request.
Trade fair
|
Your platform for new ideas
 DR. MÜLLER DIAMANTMETALL AG…
Dr. Müller Diamantmetall AG is a company with a remarkable tradition. Its founder, Dr. Wilhelm Müller, invented the metal-bonded diamond grinding wheel in 1935, laying the foundation stone for the company, and to the present day Dr.  Müller Diamantmetall AG remains an owner-operated enterprise, with the third generation of the family in charge of its operations.
Since the early years of Dr. Müller Diamantmetall AG it has been our focus to work with our customers as partners and to meet the challenges of the future in close cooperation with them.
 INDIVIDUAL PREMIUM
Tell us what grinding operation you are currently planning. We will advise you personally and develop the grinding wheel that meets your individual needs exactly. For the highest quality or reliable reproducibility. For productive processes, extended life and calculable investment security. For fascinating grinding performance and continuous optimisation – your requirements are our challenges.
Our product portfolio contains more than 155,00 varieties of articles, supported by a powerful database which can trace back each individual product over more than 20 years.
Whether you require an exchange of ideas and advice from technical to technical in advance of new technical challenges, or are interested in the ongoing improvement of your grinding operations in the course of dedicated after-sales support, or even if its matter of re-grooving or re-grinding a grinding wheel – we support you on the spot.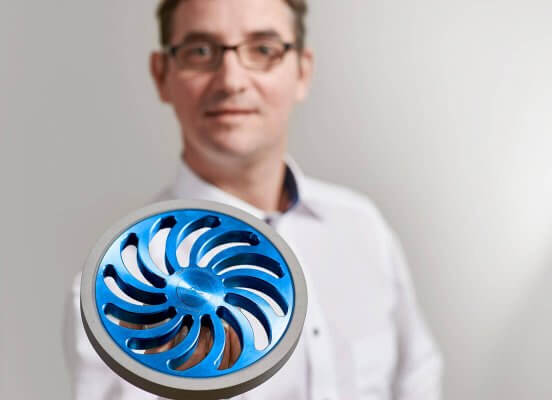 Contact
|
AN EQUAL PARTNER WHO SEES THE CLIENT
Dr. MÜLLER DIAMANTMETALL AG
Leprosenweg 34
D-82362 Weilheim i. Ob.
ADVICE:
Phone: +49 (0) 881 / 90 11 55-0
Fax: +49 (0) 881 / 90 11 55-100
E-Mail: vertrieb@muedia.de